THE LATEST EXPERT FORECASTS FOR HOME PRICES IN 2023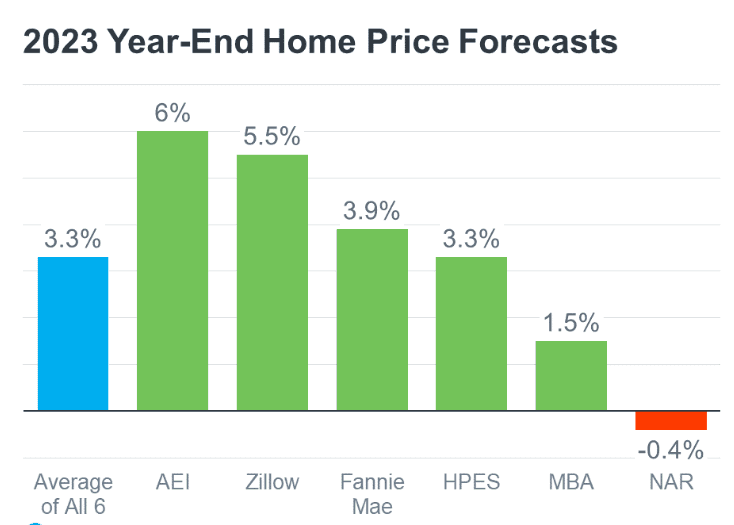 THE LATEST EXPERT FORECASTS FOR HOME PRICES IN 2023
Most Experts Project Home Prices Will Net Positive this Year
The general consensus from industry experts is that home price appreciation will actually be positive for 2023. The graph above shows the latest 2023 year-end forecasts from six different organizations.
As you can see, all but one project nationally prices will net positive this year. That's significant because it shows the majority are optimistic about home price growth.
If you're still worried about the one red bar that shows an overall price drop for the year, think about this. The projection from the National Association of Realtors (NAR) is for only a slight decline. It's not the big crash all the headlines called for. Plus, if you average all six forecasts together, the expectation is that prices will net somewhere around 3.3% positive growth for the year.
If these 6 organizations aren't enough to convince you that prices won't come tumbling down, here's something else to consider. One of the six forecasts represented in the graph is the Home Price Expectation Survey (HPES) from Pulsenomics. It combines survey results from over 100 economists, investment strategists, and housing market analysts. The HPES found that the average from all 100 of those experts is 3.3% price growth for the year.
If you look back at the graph above, you'll notice the blue average for the forecasts in this graph is also 3.3%. While individual forecasts may vary, both the HPES survey and the average of these forecasts provide the same projection. And 3.3% appreciation is a completely different story than prices falling.
Bottom Line
If you're worried about home prices falling this year, let the experts reassure you. Based on the average of the latest forecasts, home prices will actually show positive growth this year. If you have questions about what's happening with home prices in your area, connect with one of our agents at the Ray Lopez Team.